These pages are dedicated to a great computer:
the Apple Macintosh Plus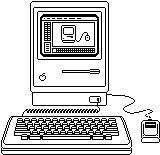 It was born some years ago in Cupertino, it has a Motorola powerful heart, a 68000 which beats with a frequency of 8 Mhz.


Special: cliparts page Last update: 08/11/1998
Special: The Mac Plus Service Source Acrobat file (576KB)




Have you ever seen a wooden case for the Plus?


If you want to receive an e-mail everytime this site is updated, write to webmaster and put in the body of the message the line "SUBSCRIBE MAC PLUS".
---
visitors.